This feed contains pages in the "cycling" category.
Another summer, another excuse to bike around carrying a lot of stuff. This time, the adventure was cycling to Ari and Beth's wedding in New London, Connecticut, with Mako and Daf.
Day 1 - Friday, May 27th
Mako and I took our bikes out for a loaded run down the Minute Man bike path to Bedford and back to make sure everything was in good working condition.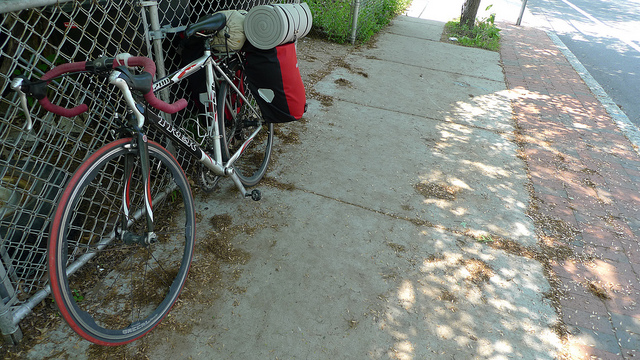 Thanks to a whole bunch of bike maintenance we'd done in the week leading up to this, everything was confirmed to be ship-shape!
Amongst pre-tour maintenance tasks were replacing a very worn chain, heavily worn brake pads, a minorly worn cassette, and some _very_ worn derailleur pulleys. Check out the spikes on those things! (They're _supposed_ to look like gears.)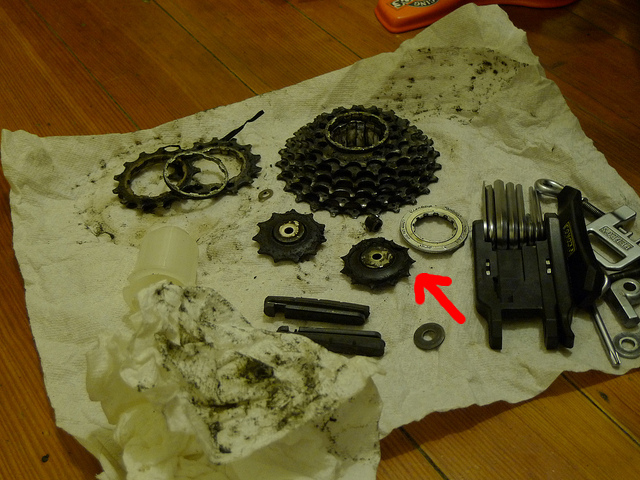 Total distance covered: about 50km.
Day 2 - Saturday, May 28th
Prepped with a hearty grits and tofu scramble breakfast at Johnny D's in Davis Square, we made our getaway at a decadent 11am on a glorious sunny morning. Our friend Ben joined us, leading us on a nice route out of the city and staying on all the way down to Woonsocket, Rhode Island, where we stopped to grab sandwich ingredients (bread, fruit, hummus, veg salami) for lunch at a Stop & Shop.
The only problem encountered was me totally not paying attention to what grocery store we were going to stop at, and powering down a road 10km in the wrong direction, until I finally had the sense to turn on my phone and figure out what was up.
(We were traveling from Chepachet towards East Killingly on the CT/RI border. I ended up halfway to Providence. Oops.)
At least the scenery was nice!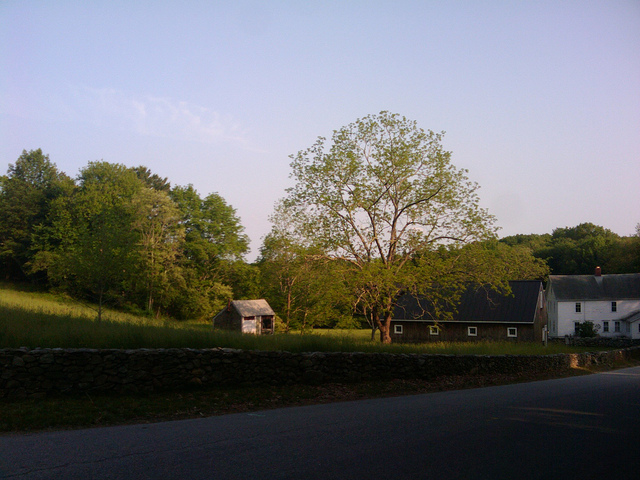 Well, I knew it was all downhill from here.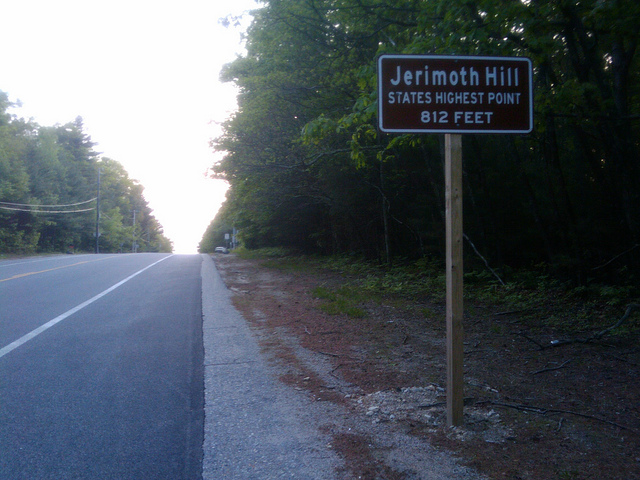 This resulted in me not getting to the campground until around 8pm, kind of cranky and thoroughly ready for food and a shower.
On the plus side, getting in late meant my buddies had already set up the tents!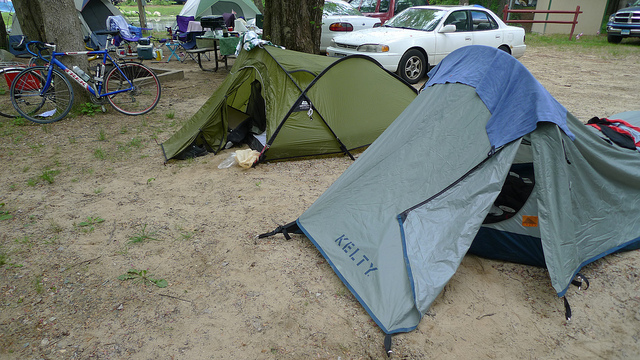 Our fourth party member (traveling separately) had bike problems and couldn't join us, so we had to drink her share too.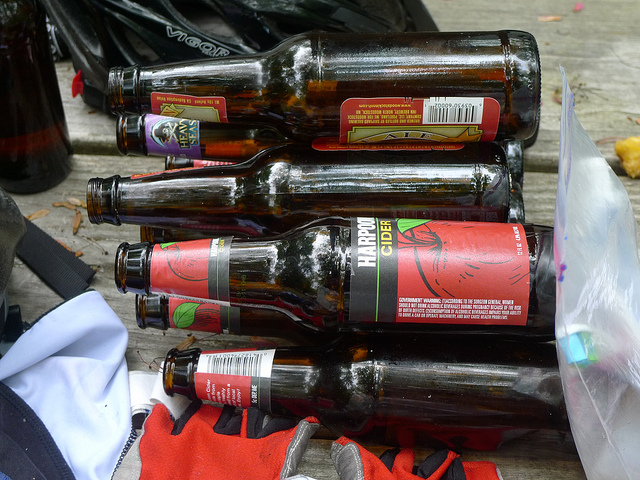 Total distance covered: 110km, or, if you're me, 130km.
Day 3 - Sunday, May 29th
We rolled out of the campground at 10am, needing to cover another 70km in order to make it to the wedding on time. It was hot and sticky that day, and we had to brave the rolling ridges of Connecticut. We passed through Jewett City, which was funny on the way to a Jewish wedding.
We rolled into our motel in Groton at around 3pm, quickly showered, and then piled into a cab to make it to the wedding in time.
Wedding!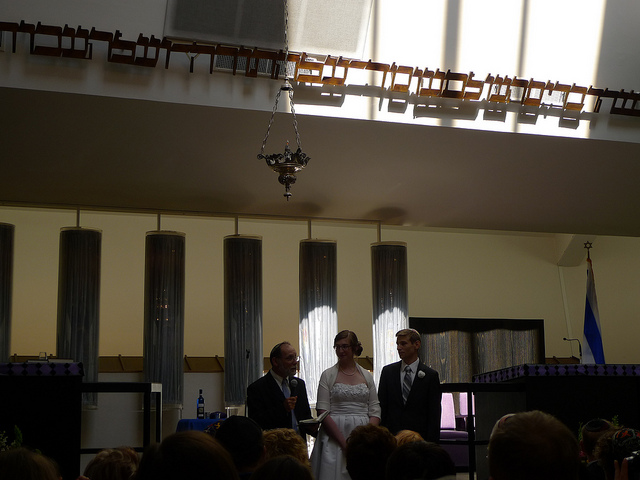 Much merriment, glass-breaking, excellent food, and running around in circles was had.
Total distance covered: 70km.
Day 4 - Monday, May 30th
We basically took this mildly rainy day off, only cycling enough to move our camp to Mystic, Connecticut and make it to the Mystic Aquarium.
Beluuuga!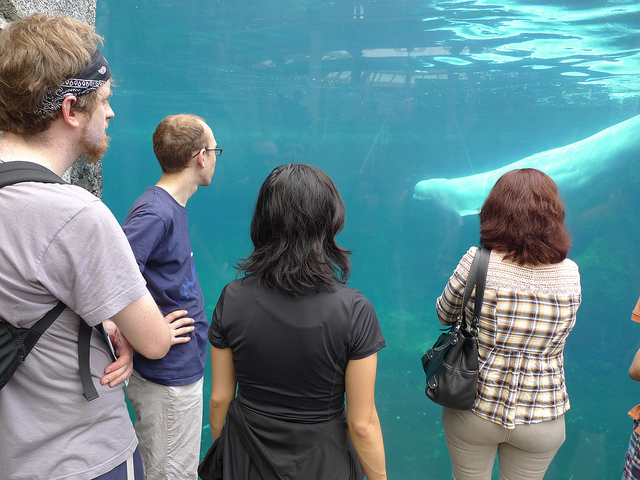 And the highlight of the day was getting pizza and drinking local beer at Pizzetta, where you can ask for almost any pizza on the menu in vegan form.
Who'd have known that the best vegan pizza I've ever eaten would be found in Mystic?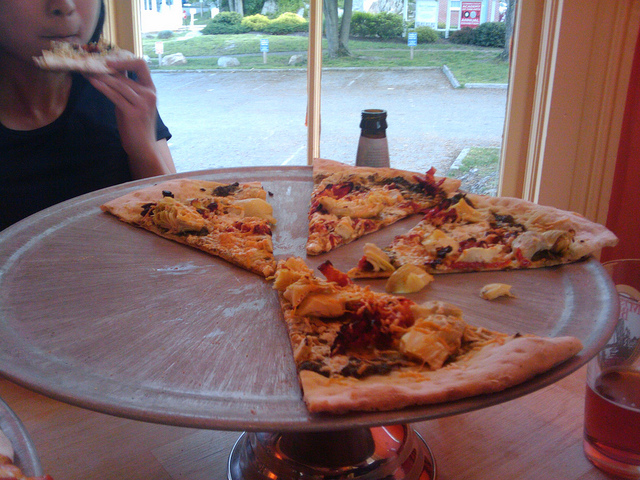 I highly recommend Cottrell's brews, which were most excellent. Seriously, they even have a song.
Total distance covered: 20km.
Day 5 - Tuesday, June 1st
We parted ways with Mako (and Mika, who had joined us late from Tokyo by this point) on another brilliant sunny morning, Daf and I heading east and them heading west. We took a windy and somewhat ill-planned route to Providence.
It just so happened that we passed by Cottrell's on the way, and stopped in to greet the brewer and see the operation.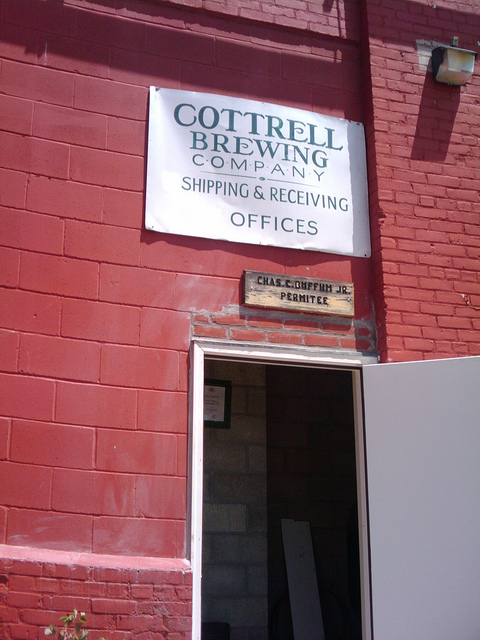 The only proper bike trouble of the entire trip: I ran over a half-inch staple, and then forgot how to switch my pump back to Presta mode from Schrader.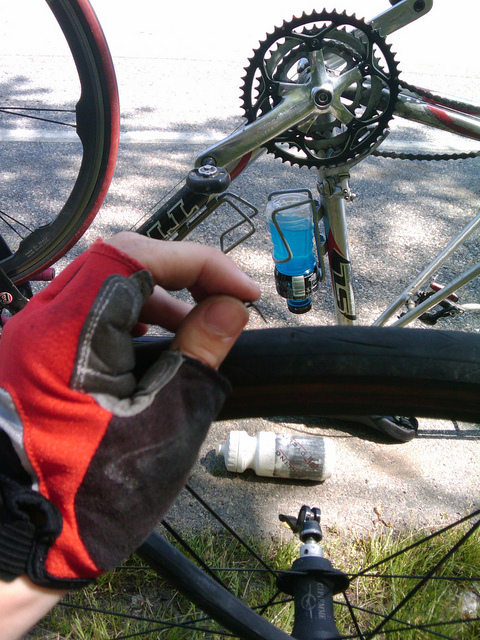 The route ended up being longer than expected, but I can't praise Rhode Island's converted railway paths enough, and it was, for the most part, flat. We hopped on the commuter rail in Providence to make it back to Boston that day.
Total distance covered: 130km.
All in all, it was a great trip, where lots of lessons learned from last time were put into practice. (In particular, adequate prep, having a good rack setup, and having enough gears on the bike to avoid knee pain while climbing hills loaded. Mad props to Star for lending me her stellar bike, which was way better suited to touring than my racer.)
I didn't miss my computer a bit.
(More pics here.)
Sometimes, Amazon packaging makes me want to cry.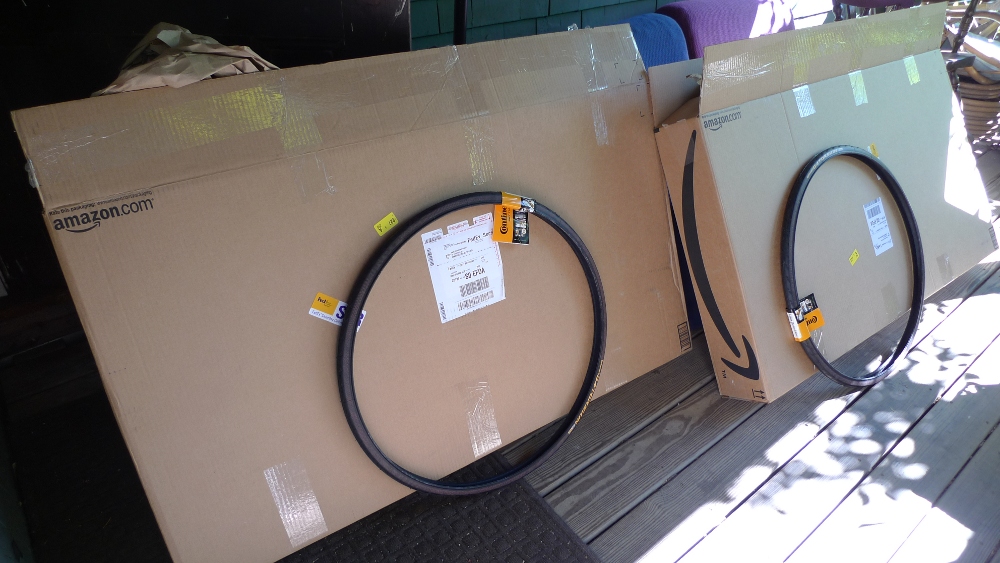 Yes, that is two foldable bicycle tires, one each in a FOUR FOOT BY SIX INCH BOX, with the rest of the boxes filled with paper. The last time I bought these tires, through the MIT cycling team, they looked like this. So to be fair, this also a vendor WTF for selling the ones that aren't pre-folded on the web.
I filled out their packaging feedback form to let them know how I felt.
DebConf being in New York City this year, clearly the right way to get there was to bike, together with Molly and Daf. Being touring newbs, there were a few mishaps.
Day 1
We aimed to catch the 10:00 commuter rail train from Boston to Providence, Rhode Island, but we ran late (predictable) and had problems with the bicycle rack for my racing bike, which attaches without frame mounts (also predictable, since Mako and Mika test-rode it earlier in the week), so we didn't make it in to the station until around 10:20. We used the extra time to eat and fix up the bikes, though, so it's not clear how much of a setback that was.
Here are our bikes ready to go at the Providence commuter rail station.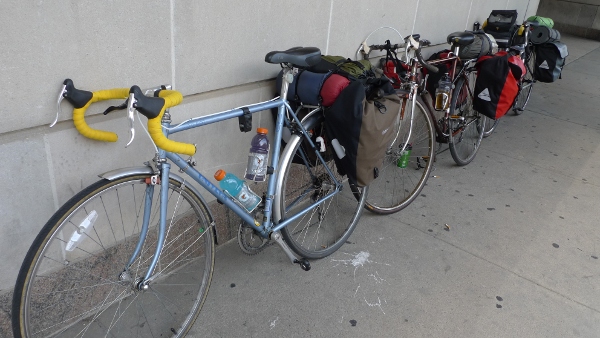 We then had some problems with Molly's brakes, and it took a long time to navigate out of the city, but eventually we found ourself on the "Washington Secondary Trail"—a wonderful bike path along an old rail line. Every couple miles there'd be an old covered rail bridge over the river, and it was a well-paved straight shot for about ten miles, with no cars and no need to navigate.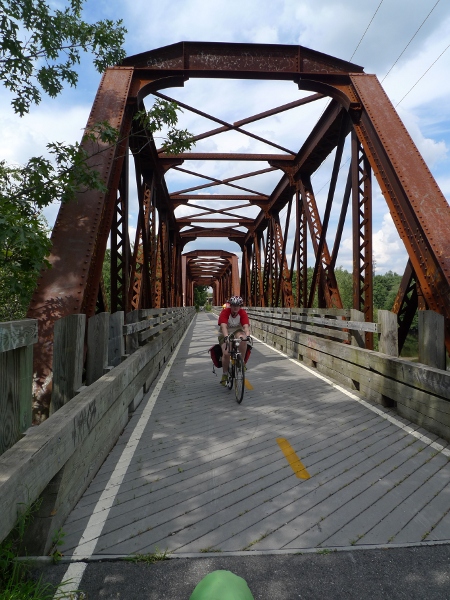 Just as we were getting into things after the bike trail ended, something completely unexpected happened.
This is Daf's derailleur after it sheared off in the middle as we attempted to start after a red light outside Tractor Supply Co.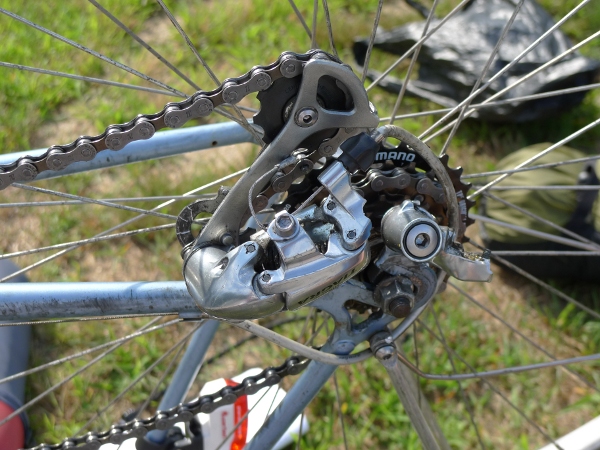 Luckily, John and his son Chris lent us a hand and hauled Daf and his bike to the nearest bicycle shop in the back of their pickup truck. They'd just come from there, where John had bought Chris a new helmet.
Greenway Cycles, the only bike shop in a twenty mile radius, was three miles away. We got there an hour before it closed and Rick replaced the derailleur and straightened the hanger in a jiffy.
Due to all these things, we didn't get as far as we'd planned in the first day and ended up camping in Seaport Campground in Mystic, Connecticut, rolling in at around 22:00. We did about 65 miles, including six due to the detour to the cycle shop. Carrying camping gear is heavy! Several delicious peanut butter and jelly bagels and some wheatberry and couscous salad later, we were passed out.
Day 2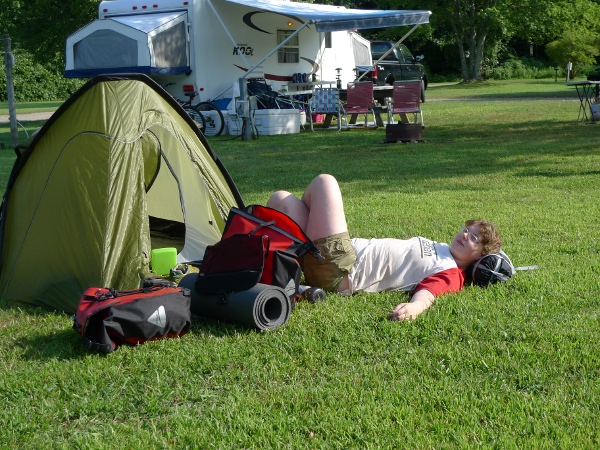 The second day included less bike trouble, but was no less eventful, and we were tired from the previous day's riding. The highlights included taking a tiny sidewalk path that I'm baffled how Google knows about up onto a sidewalk alongside the I-95 bridge across the Thames to New London, Connecticut.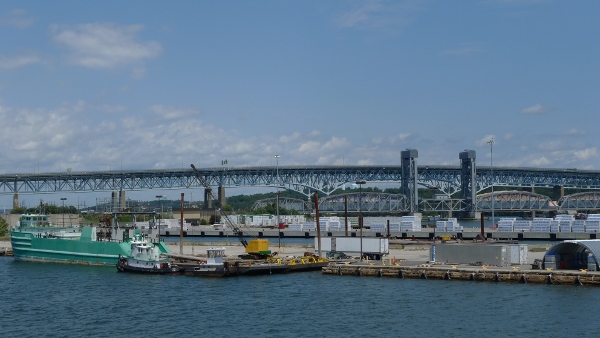 The 13:00 ferry from New London to Orient Point, New York, where we got some remarkably good veggie burgers (whole edamame visible!) for lunch.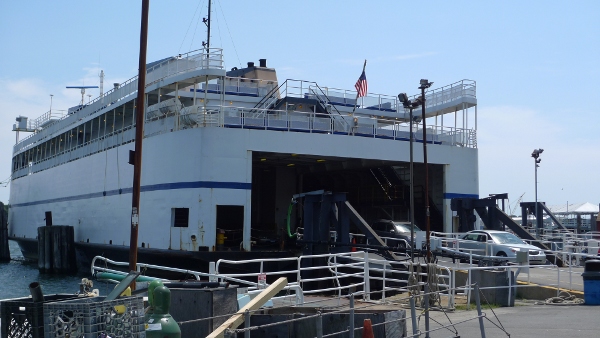 And a vineyard on the north fork of Long Island, where we stopped for a quick tasting and ended up picking up a bottle of barrel-fermented chardonnay. The vineyard was small—23 acres, with 11 acres of grapes—and the proprietors were friendly and extremely interested in our trip. They gave us a dollar off on the bottle due to our method of transport.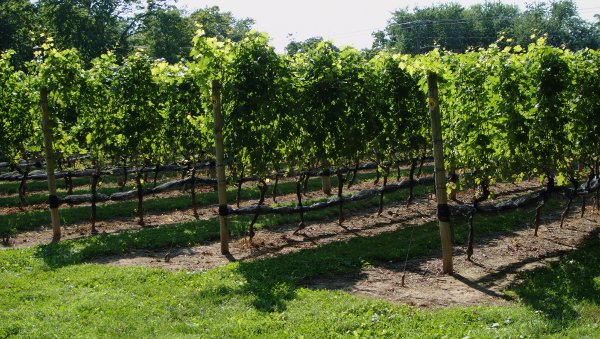 It turns out there are only two trains a day on the Long Island rail, and we just barely caught the 18:52 return from Riverhead. We had mere seconds in the station and ended up without enough cash to pay for tickets onboard, but the conductor just took what we had and gave us tickets to Penn Station anyway.
Outside Penn, a girl with a mohawk and a messenger bag overheard us talking about biking up Broadway and told us to bike up 8th Avenue instead. "Always bike up 8th and down Broadway because they have bike lanes in those directions." Thus, we didn't die dodging taxis in the dark.
So basically, due to various people being extremely nice to us for no good reason, we made it to Columbia University around 22:30, on the correct day. Warm fuzzies for humanity all around.

I used to buy those reflective ankle bands at cycling shops so my pants wouldn't end up caught in my chainring when I ride.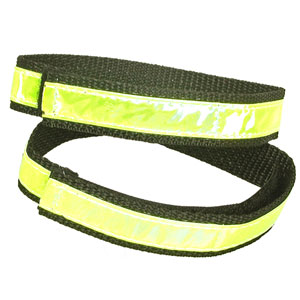 They run around $3-$5 a piece, and I'm sure I've run through at least $30 worth of them over the past four years. After I lost the last one I bought, I got tired of every loss involving a trip to a cycling shop and a $5 expenditure.
Solution? Rubber bands.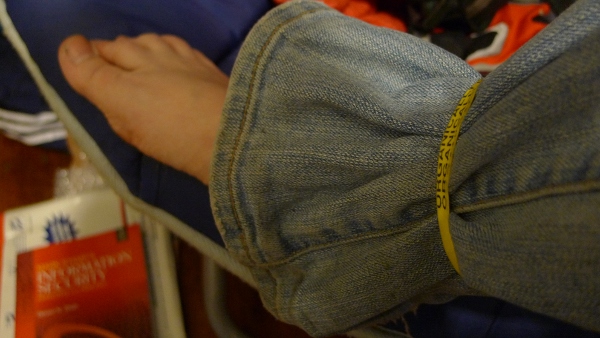 They're smaller, less likely to fall out of pockets, and when lost involve only forcing oneself to endure another portion of organic broccoli. I'll try not to lose them too often intentionally as a result.
I've always worn a helmet, but have still been sort of sympathetic to those who say that it's not necessary and won't necessarily help you that much in an accident. Maybe. Depends on the accident.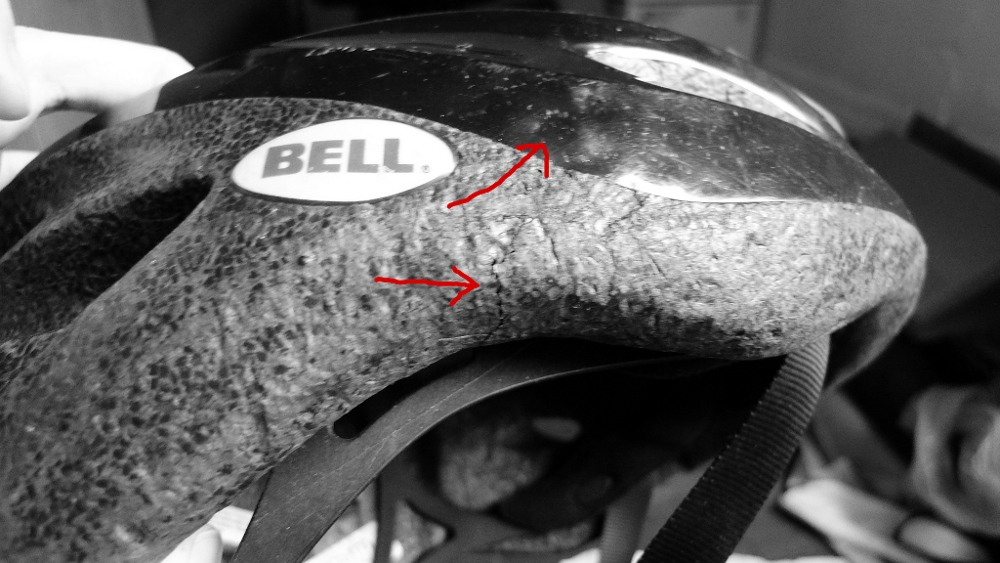 A couple weeks ago I slid on some black ice making a turn onto the street where I live and BAM, pavement-kissing time. It had been rainy that day and the night temperatures had fallen just below freezing, making it prime weather for unexpected ice.
This poor helmet's been retired now after a job well-done. Note the crack in the foam and the road-imprint above it. I had a headache the next day, but was back up to 100% normal within 36 hours. One of those things that could have been way worse.
If I wasn't a helmet evangelist before, I am now.
I present proof, in the form of me looking like I'm about to die during the Boston Beanpot Classic road race this past weekend: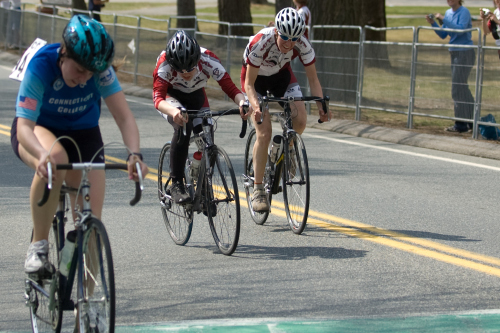 My teammate Lisa (right) looks a bit happier about the death part than I do.
At any rate, it was a fun home race weekend despite a lack of sleep going in, and the death felt pretty good for being death. The road race and team time trial were hilly, and the Tufts Criterium had lots of fun corners. MIT had a good showing (race results here)--now we just need to dominate the upcoming UVM and ECCC Easterns races!
More funny faces can be found on Flickr. Cyclists are fun people, and every race I've gone to I've had a blast at. I'm glad I decided to race with the team this spring, despite being too busy to come out for every race weekend.