DebConf being in New York City this year, clearly the right way to get there was to bike, together with Molly and Daf. Being touring newbs, there were a few mishaps.
Day 1
We aimed to catch the 10:00 commuter rail train from Boston to Providence, Rhode Island, but we ran late (predictable) and had problems with the bicycle rack for my racing bike, which attaches without frame mounts (also predictable, since Mako and Mika test-rode it earlier in the week), so we didn't make it in to the station until around 10:20. We used the extra time to eat and fix up the bikes, though, so it's not clear how much of a setback that was.
Here are our bikes ready to go at the Providence commuter rail station.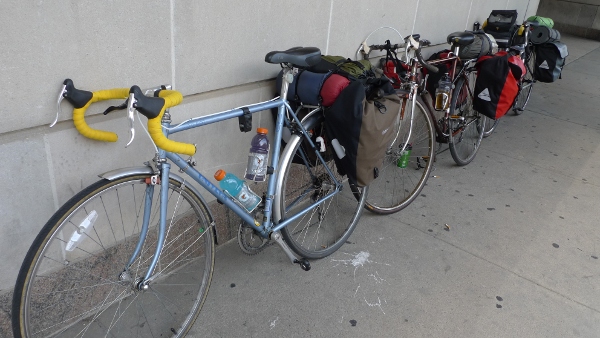 We then had some problems with Molly's brakes, and it took a long time to navigate out of the city, but eventually we found ourself on the "Washington Secondary Trail"—a wonderful bike path along an old rail line. Every couple miles there'd be an old covered rail bridge over the river, and it was a well-paved straight shot for about ten miles, with no cars and no need to navigate.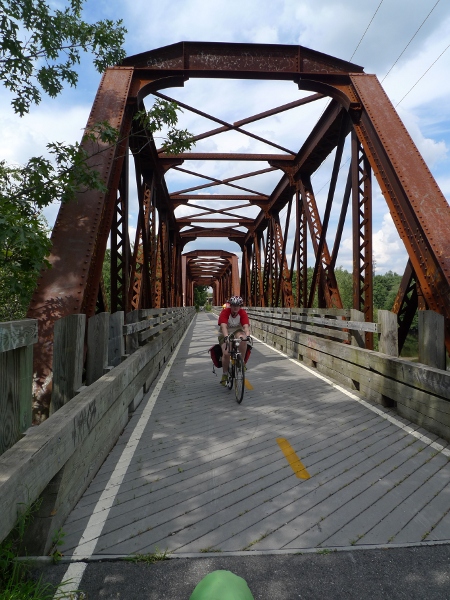 Just as we were getting into things after the bike trail ended, something completely unexpected happened.
This is Daf's derailleur after it sheared off in the middle as we attempted to start after a red light outside Tractor Supply Co.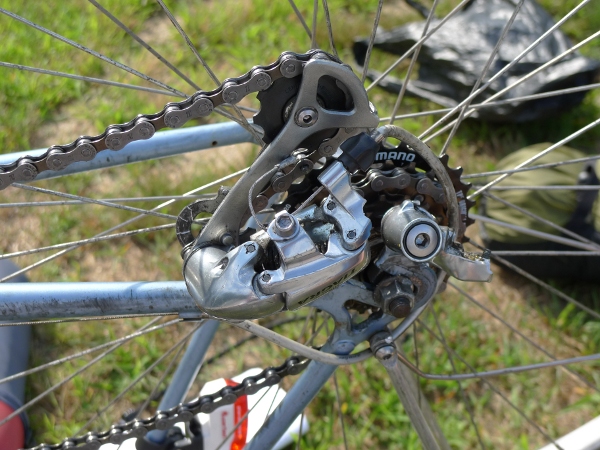 Luckily, John and his son Chris lent us a hand and hauled Daf and his bike to the nearest bicycle shop in the back of their pickup truck. They'd just come from there, where John had bought Chris a new helmet.
Greenway Cycles, the only bike shop in a twenty mile radius, was three miles away. We got there an hour before it closed and Rick replaced the derailleur and straightened the hanger in a jiffy.
Due to all these things, we didn't get as far as we'd planned in the first day and ended up camping in Seaport Campground in Mystic, Connecticut, rolling in at around 22:00. We did about 65 miles, including six due to the detour to the cycle shop. Carrying camping gear is heavy! Several delicious peanut butter and jelly bagels and some wheatberry and couscous salad later, we were passed out.
Day 2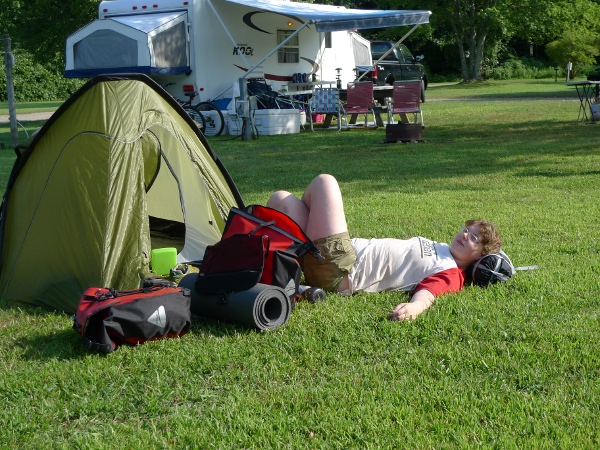 The second day included less bike trouble, but was no less eventful, and we were tired from the previous day's riding. The highlights included taking a tiny sidewalk path that I'm baffled how Google knows about up onto a sidewalk alongside the I-95 bridge across the Thames to New London, Connecticut.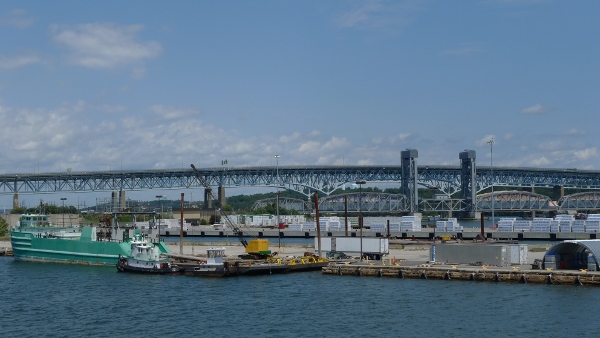 The 13:00 ferry from New London to Orient Point, New York, where we got some remarkably good veggie burgers (whole edamame visible!) for lunch.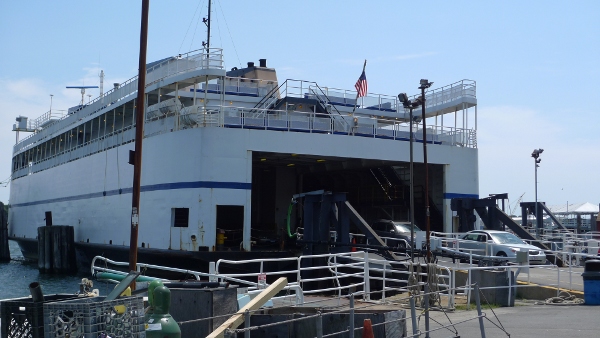 And a vineyard on the north fork of Long Island, where we stopped for a quick tasting and ended up picking up a bottle of barrel-fermented chardonnay. The vineyard was small—23 acres, with 11 acres of grapes—and the proprietors were friendly and extremely interested in our trip. They gave us a dollar off on the bottle due to our method of transport.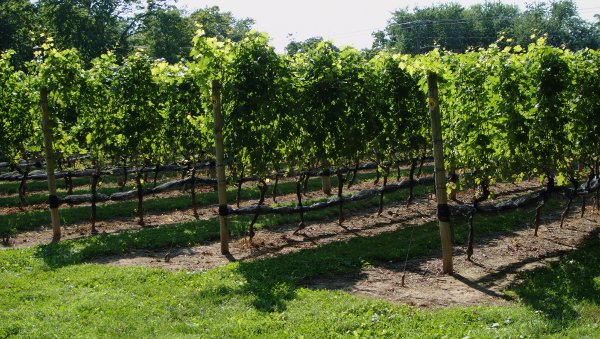 It turns out there are only two trains a day on the Long Island rail, and we just barely caught the 18:52 return from Riverhead. We had mere seconds in the station and ended up without enough cash to pay for tickets onboard, but the conductor just took what we had and gave us tickets to Penn Station anyway.
Outside Penn, a girl with a mohawk and a messenger bag overheard us talking about biking up Broadway and told us to bike up 8th Avenue instead. "Always bike up 8th and down Broadway because they have bike lanes in those directions." Thus, we didn't die dodging taxis in the dark.
So basically, due to various people being extremely nice to us for no good reason, we made it to Columbia University around 22:30, on the correct day. Warm fuzzies for humanity all around.