This feed contains pages in the "music" category.
One of my housemates made me and Daf these wonderful mugs which go astoundingly well with the homemade coasters we got at a Giraffes? Giraffes! concert.
They require some degree of caution in order to not poke oneself in the eye while drinking from them.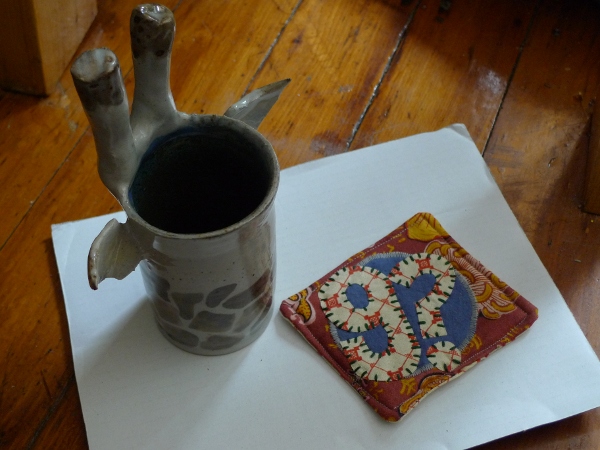 I'm taking this class called Music Since 1960 this spring with this great guy Evan Ziporyn (of Bang on a Can pseudo-fame). It's really one of those classes that depends entirely on the teacher, and Evan makes it a great class, despite being out of town relatively frequently to play with Bang on a Can. He leads discussions without dominating them, has street cred, and knows lots of people who he can bring in as guest lecturers for those times when he is not around.
One thing we had to do for the class was to come up with a 15-minute presentation from a post-1960 artist of choice. I chose to present about the Penguin Cafe Orchestra (1974-1997).
The Penguin Cafe Orchestra was, perhaps surprisingly, not actually an orchestra. It was basically a chamber group whose members played numerous instruments. The membership was fluid, with only the British co-founders Simon Jeffes and Helen Liebmann staying with the group continuously, and the rest of the musicians coming and going.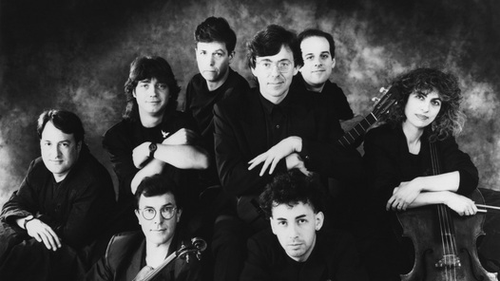 The group was created as a response to an experience Jeffes had while in the south of France, while suffering from food poisoning. He writes,
I was laying in bed delirious, sort of hallucinating for about 24 hours. I had this one vision in my mind of a place that was like the ark of buildings, like a modern hotel, with all these rooms made of concrete. There was an electronic eye which scanned everything. In room one you had a couple that were making love, but lovelessly. It was cold sex with books and gadgets and what have you. In another room there was somebody just looking at himself in the mirror, just obsessed with himself. In another room there was a musician with a bank of synthesisers, wearing headphones, and there was no sound.

This was a very terrible, bleak place. Everybody was taken up with self-interested activity which kept them looped in on themselves. It wasn't like they were prisoners, they were all active, but only within themselves. And that kept them from being a problem or a threat to the cold order represented by the eye.

A couple of days later I was on the beach sunbathing and suddenly a poem popped into my head. It started out 'I am the proprietor of the Penguin Cafe, I will tell you things at random' and it went on about how the quality of randomness, spontaneity, surprise, unexpectedness and irrationality in our lives is a very precious thing. And if you suppress that to have a nice orderly life, you kill off what's most important. Whereas in the Penguin Cafe your unconscious can just be. It's acceptable there, and that's how everybody is. There is an acceptance there that has to do with living the present with no fear in ourselves.
(from http://www.penguincafe.com/simon.htm)
What a beginning for music that came to be described as "exuberant folk", and which incorporated musical styles from Africa and folk music with the more complex, "intellectual" classical traditions of upper-class Europe! Jeffes started out studying classical guitar, but felt that his studies were dead and lifeless and dropped out, dabbling in rock and avant-garde before deciding that he didn't actually want to throw out the whole of the European classical tradition, what he described in an interview as "the music of our people".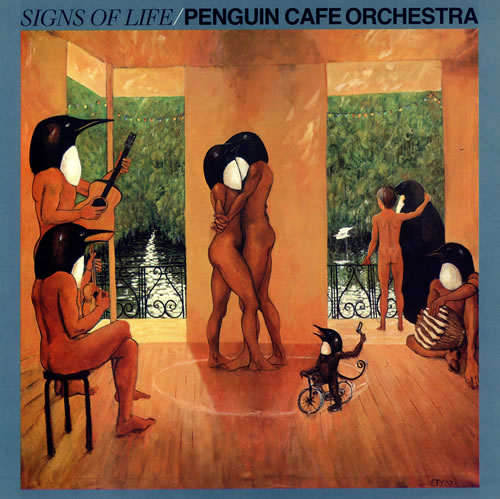 What came of his choice of direction was "cafe music", as he describes:
Ideally I suppose it is the sort of music you want to hear, music that will lift your spirit. It is the sort of music played by imagined wild, free mountain people creating sounds of a subtle dream- like quality. It is cafe music, but cafe in the sense of a place where people's spirits communicate and mingle, a place where music is played but often touches the heart of the listener.
To me, it evokes a sort of low-key romantic European cafe, with people chatting and music that is not too loud, and many many books. Life! Spontaneity! In many ways I am not a romantic, but day-dreaming about cafes and beautiful, human music is not one of them. Some of the PCO's songs are so good in that way that I nearly can't listen to them, it's too painful. Perpetuum Mobile and Rosasolis come to mind.
One good side effect of researching the group for the class was finding video of the group playing and of Simon Jeffes speaking, albeit most of it from a bizarre 1989 BBC studio performance, which includes such gems as Simon Jeffes playing two penny whistles at the same time (Salty Bean Fumble), and just being able to see what fun they're all having while they perform.
I also discovered that Concert Program is a wonderful "snapshot" studio album, not a release of all new music but just a picture of the group at a particular point in time. It contains some subtle variations on pieces that I know well from their original releases (Music from the Penguin Cafe, Penguin Cafe Orchestra, Broadcasting from Home, and Signs of Life)..Union Cafe is an album that I didn't know about before researching for the presentation.
Tragically, Jeffes died in 1997 of an inoperable brain tumour. His son Arthur continues his legacy today with his group Music from the Penguin Cafe Orchestra, which plays PCO pieces as well as new compositions.
If only all assignments could be so fun and rewarding.
My parents are buying me a professional French horn! (The one I use currently is owned by the school.) Like this.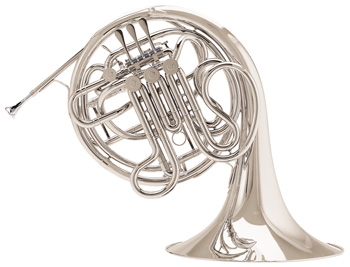 Also, I think I have six months worth of new books to read, combining Christmas with my birthday last month. <boggle>
Dan Brown - _ Digital Fortress_
Robert Jordan - The Great Hunt
Charles Dickens - A Tale of Two Cities (I can save this one for last; I've read it before)
Tom Clancy - Executive Orders (oy, I read the previous Jack Ryan books a long time ago)
Harriet Beecher Stowe - Uncle Tom's Cabin
Shakespeare - Othello, The Tempest, Hamlet, Macbeth, Much Ado About Nothing (two of these I've already read, though)
George R. R. Martin and Lisa Tuttle - Windhaven Plus, I have one gift certificate to Borders and one to Barnes and Noble (from birthday). And the special edition DVD of Monty Python and the Holy Grail.
Thank you, I felt the need to share that with the world.
Bands of America Eastern Regional gets rained out. Thank you tropical storms. Not only did it pour all day Friday and Saturday, flooding the turf field at Towson University, but the organizers were unable to find a backup place to hold an indoor music performance (the forecast should have been enough to have this arranged ahead of time). The next day it wasn't raining at all, but there was no rescheduling. I really do hope that attending schools are getting some sort of refund, as we just basically spent $25,000 on this: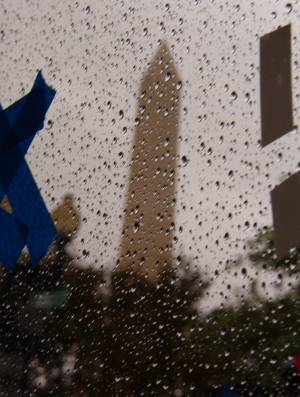 Basically, they bussed us to Washington, D.C. (an hour or so's drive) to visit the Smithsonian so that we wouldn't destroy the hotel out of boredom on Saturday (which definitely would have happened). "I think I see the capitol... over there, sort of... squint some more!"
While the trip overall was a real let-down, especially for the last one I'll get to go on, there were a few fun moments.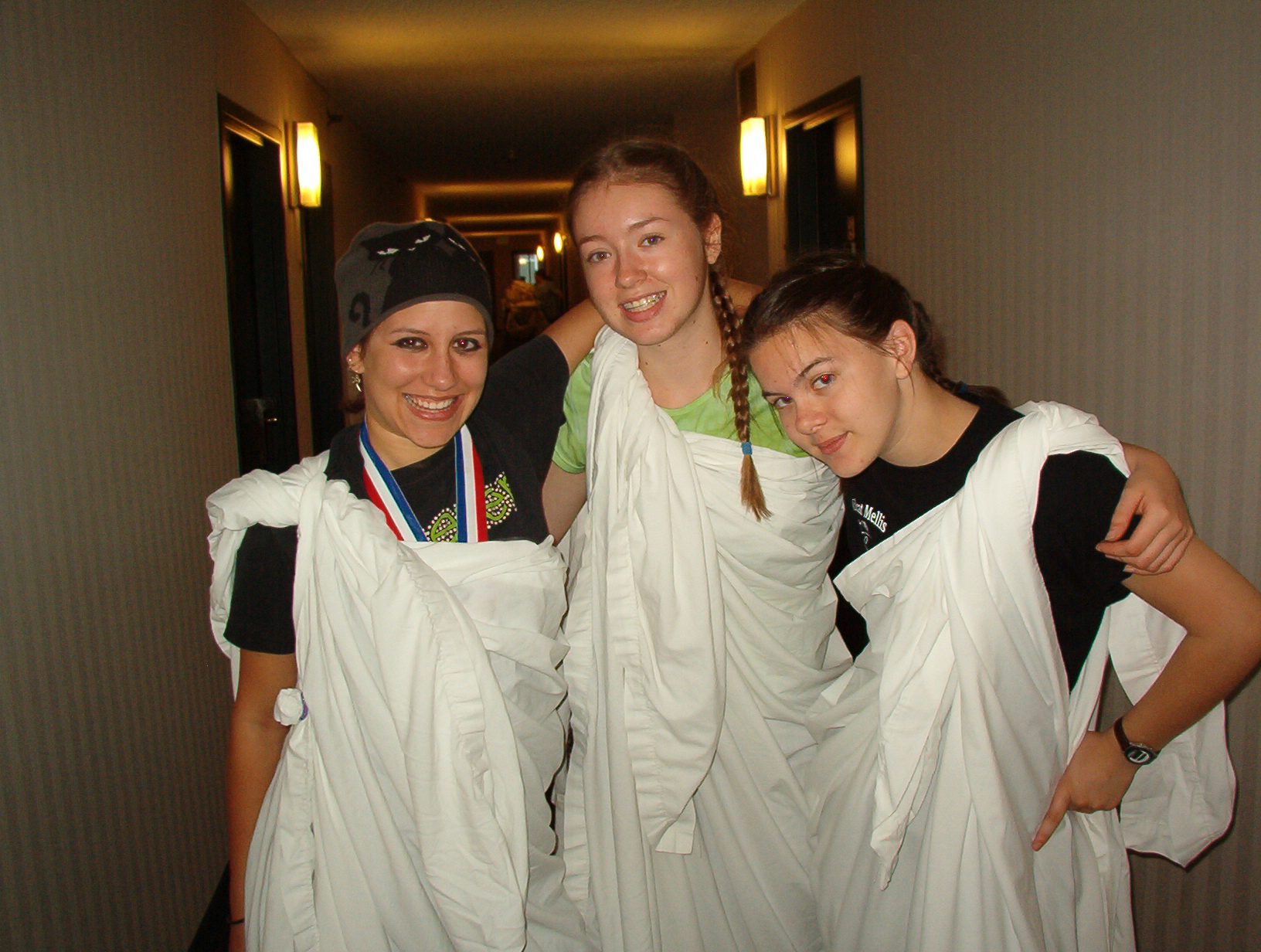 Yes, those are bed sheets.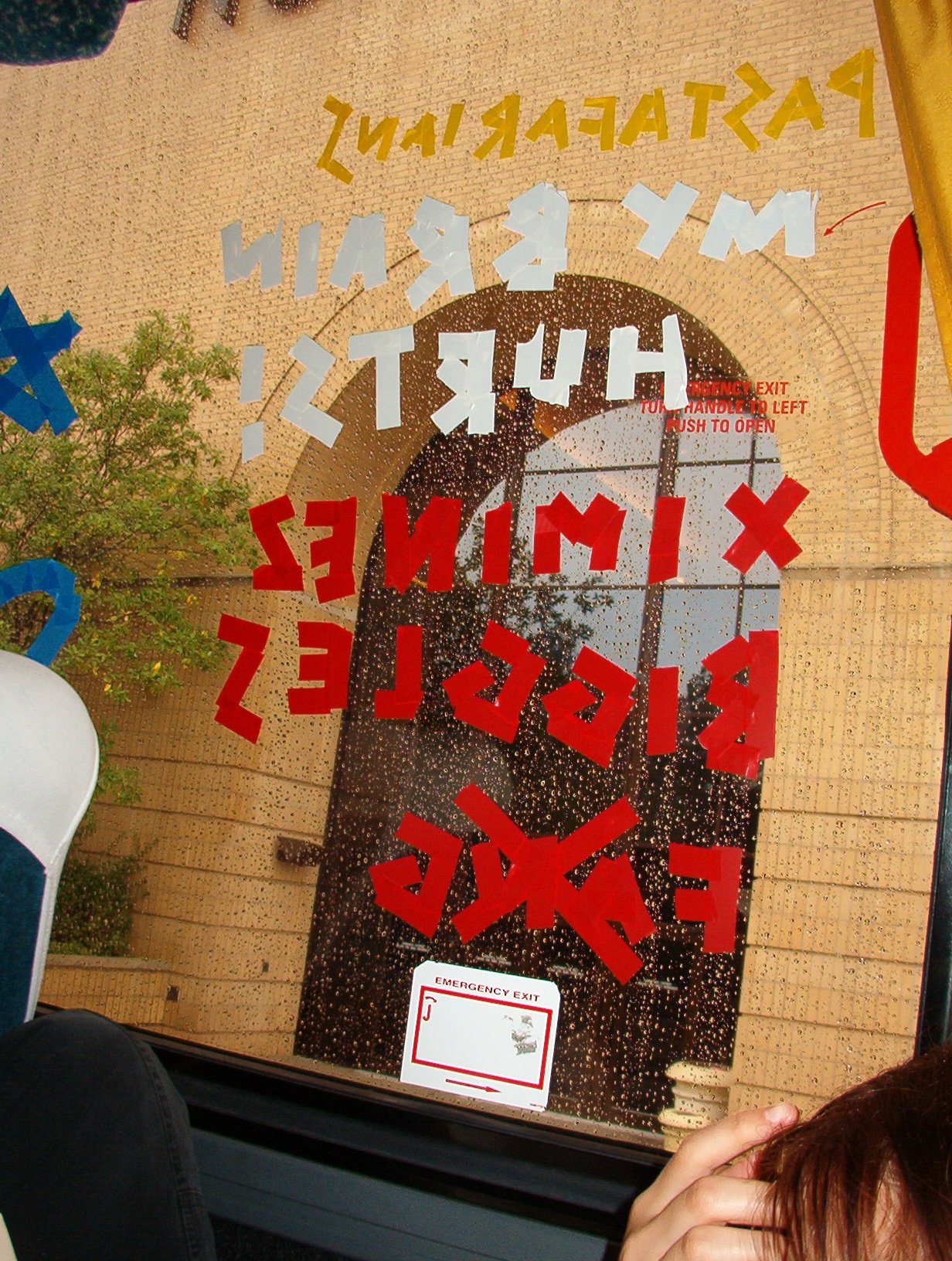 A band trip tradition: decorating the bus windows with electrical tape.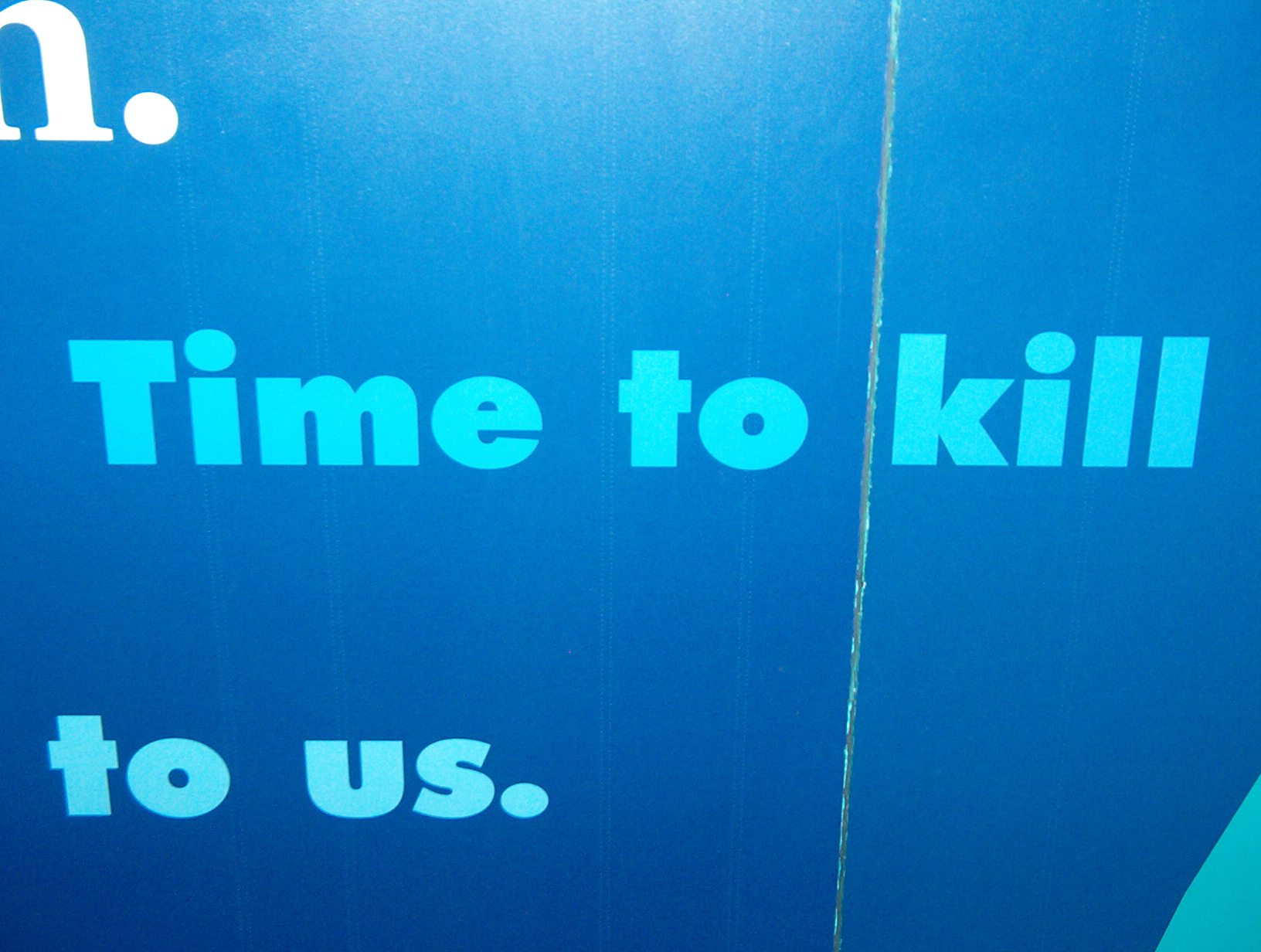 Er.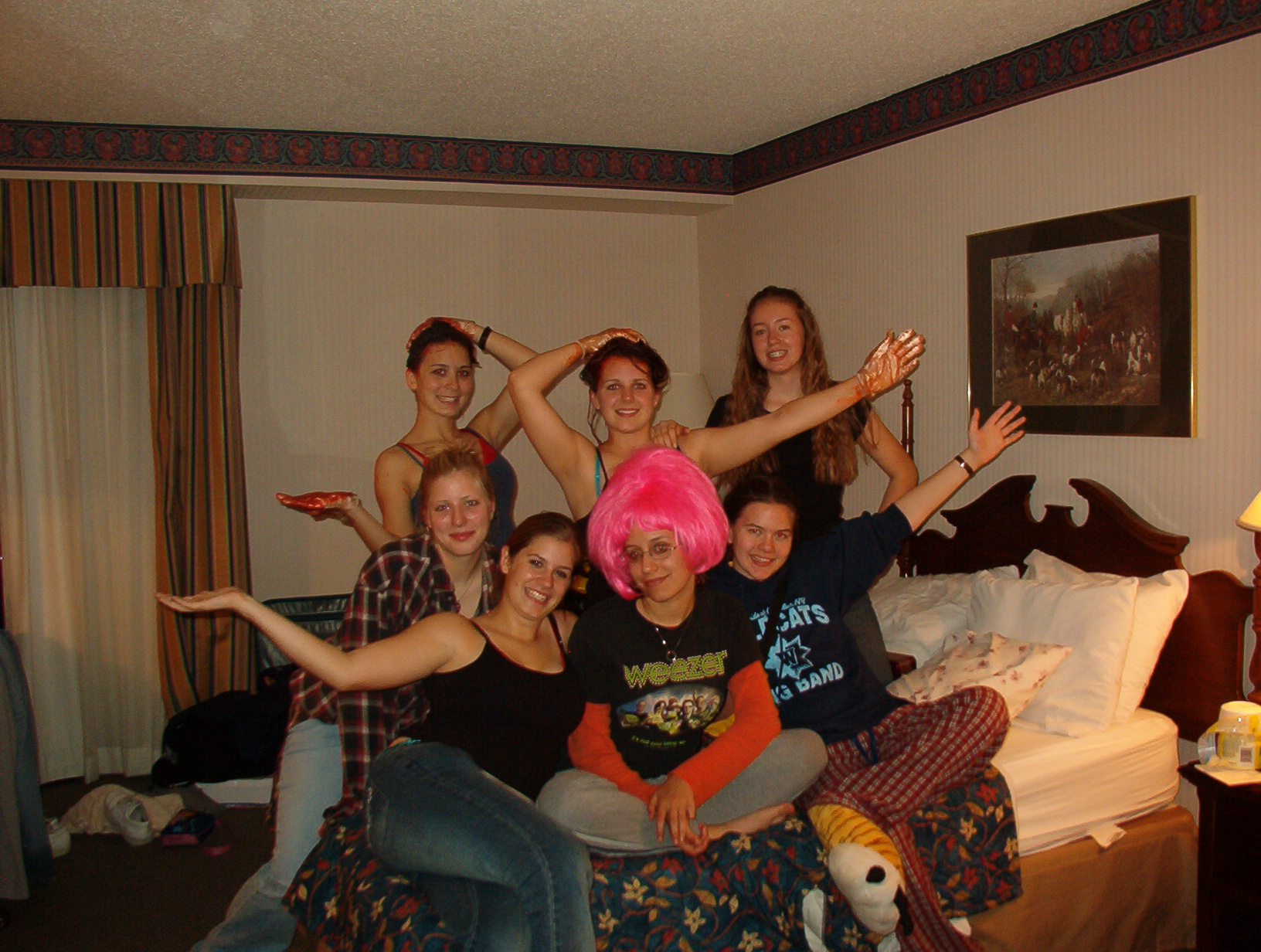 Party!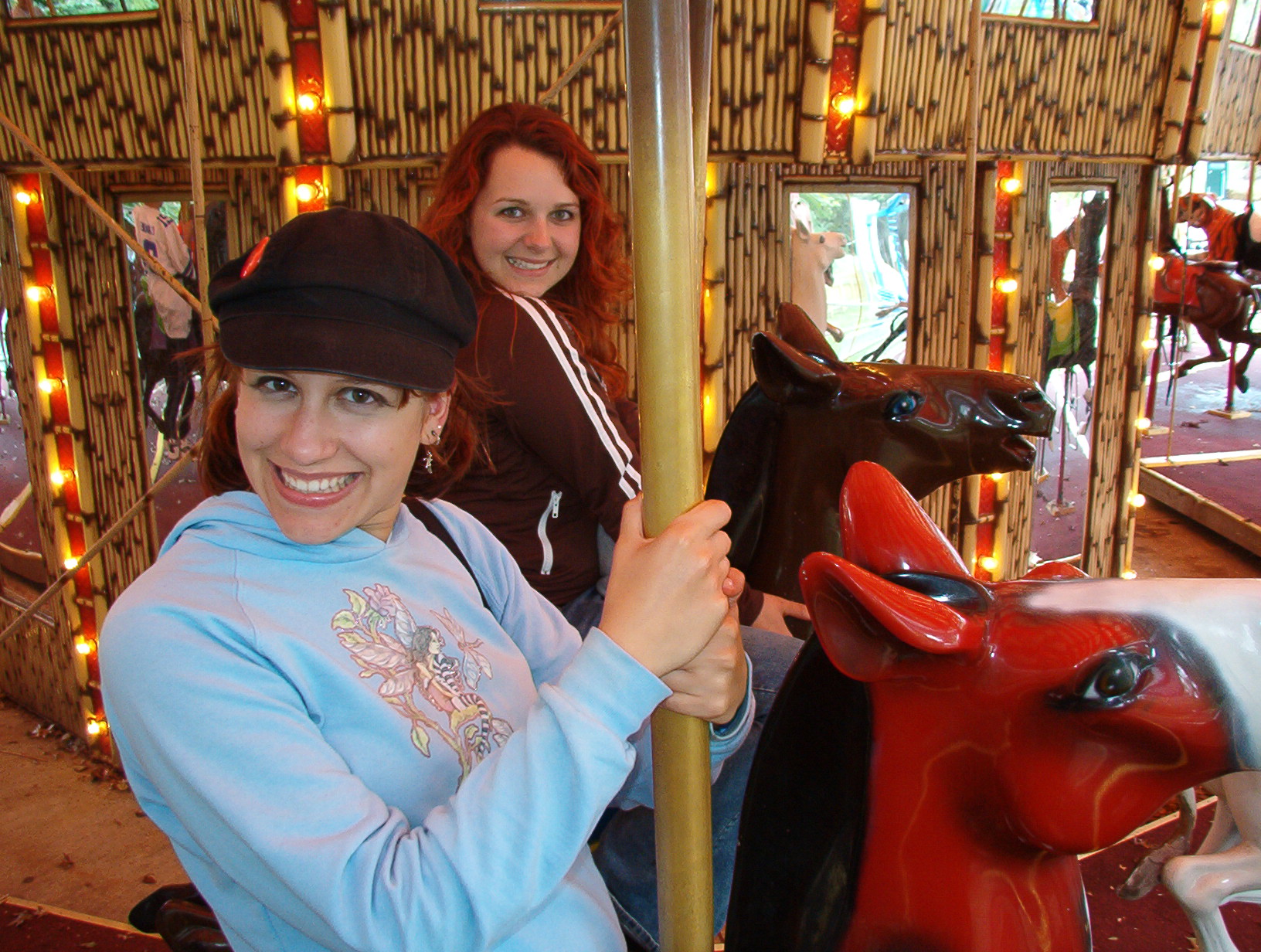 Six Flags America was still fun. I'd rather have been competing.
This weekend: leaving at 6:30 AM tomorrow morning for Maryland for the Bands of America Eastern Regional at Towson University and Six Flags America. We're getting back at around midnight Monday morning. Family from Norway is arriving to visit for a couple days on Sunday afternoon, in which my room will be apprehended to use as a guest room (and I'm not even quite done moving into it yet). Somewhere in there I need to find time to catch up on class work.
No rest for the wicked!
From what I've seen there are a few people out there that enjoy these random bits of culture, so here's a run-up on the life of a North American high school "bandie" (this is a slang term that is often regarded as derogatory among those who don't consider themselves one.)
Some of this is specific to my experience, of course, but a good deal of it applies to other field bands as well, especially from around this area.
A field band marches on a field. A football field (American football). Like this: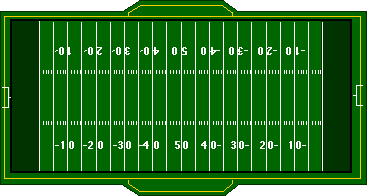 A field consists of several parts. First of all, the field is divided into two halves, separated at the 50 yard line: side A and side B. It's then further divided into thirds lengthwise, at the two "hashes" -- front and back.
In band, everyone knows what a "step" is. It's not your average step. In fact, it's only 22.5 inches long, whereas an ordinary step would run about 30 inches on average (give or take a few depending on the person). When marching down the field in a normal manner, there are 8 steps for every 5 yards. Herein lies the source of a normal step being 22.5 inches long (do the math). On a high school field, there are 28 steps between the front sideline and the front has, the front hash and the back hash, and the back hash and the back sideline. (On a university field, they have "college hash marks" which are about 3.5 steps closer to the center of the field than high school hashes.)
Here's a badly gimped version of the previous image, to illustrate the above: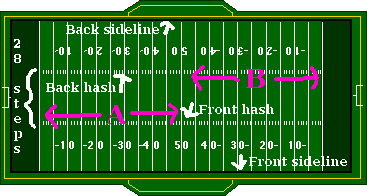 (Note: you'll get your variations on this; we've changed the names of various things several times just in the past 6 years or so. E.g. "side A" used to be "Side 1", etc.)
Of course, there's no field band that always marches at 8 steps to every 5 yards. That would be incredibly boring. When there are 8 steps to every 5 yards, we call that step size an "8 to 5" step. When there are 6 steps to every 5 yards, it's a "6 to 5" step. I'm sure it's obvious how the rest of the naming goes.
Right, now: marching. Not every band marches with the knees high on every step, pep-band style like you see in the movies such as Drumline. Syracuse University does this, but New York high schools don't. We march straight-leg style, where the point is to not have an excess of leg motion. I don't really know how to better illustrate without video.
Marching forward, it's important to roll your feet - toe to heel - and use all those leg muscles to keep yourself tall and moving smoothly, which makes it much easier to play. Marching backward, you stay completely on the balls of your feet, never touching heels to the ground. On astroturf (fake grass), if you put your heels down while marching backward, your foot is going to catch on the ground, and then you're going down.
Horns are held up at an 11-degree angle (from horizontal). Yes, 11. The mellophones in my band have the lead pipes on our horns professionally bent slightly upward, which is a great way to cheat this and make it easier. At one point the baritones were supposedly also going to get this, though I'm not sure what happened with that.
Uniform: pants, jacket, helmet, gloves. Here's me sans the gloves, which haven't come in yet from order: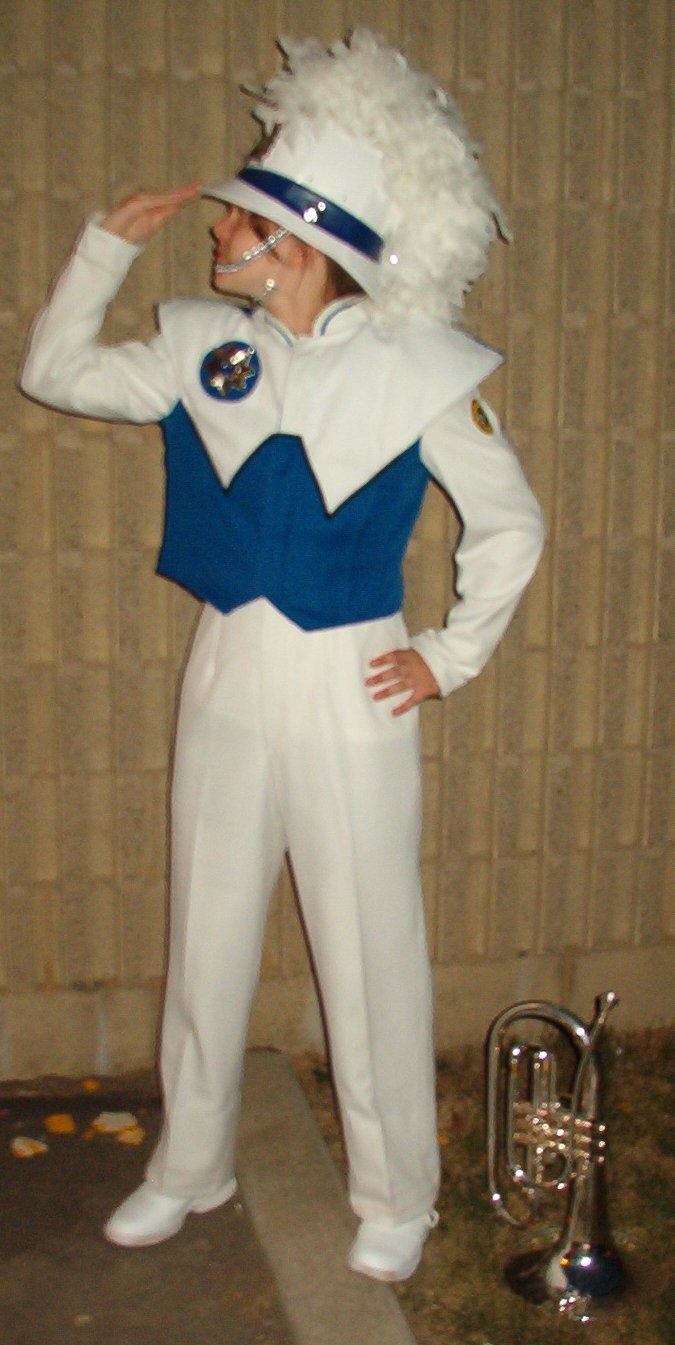 Just marching is great, but how do you know where to go? This is where drill comes in. Drill is the marching part of band. Drill consists of a series of "dots"; each dot is a position on the field where you need to be at a certain time. A drill page looks like this: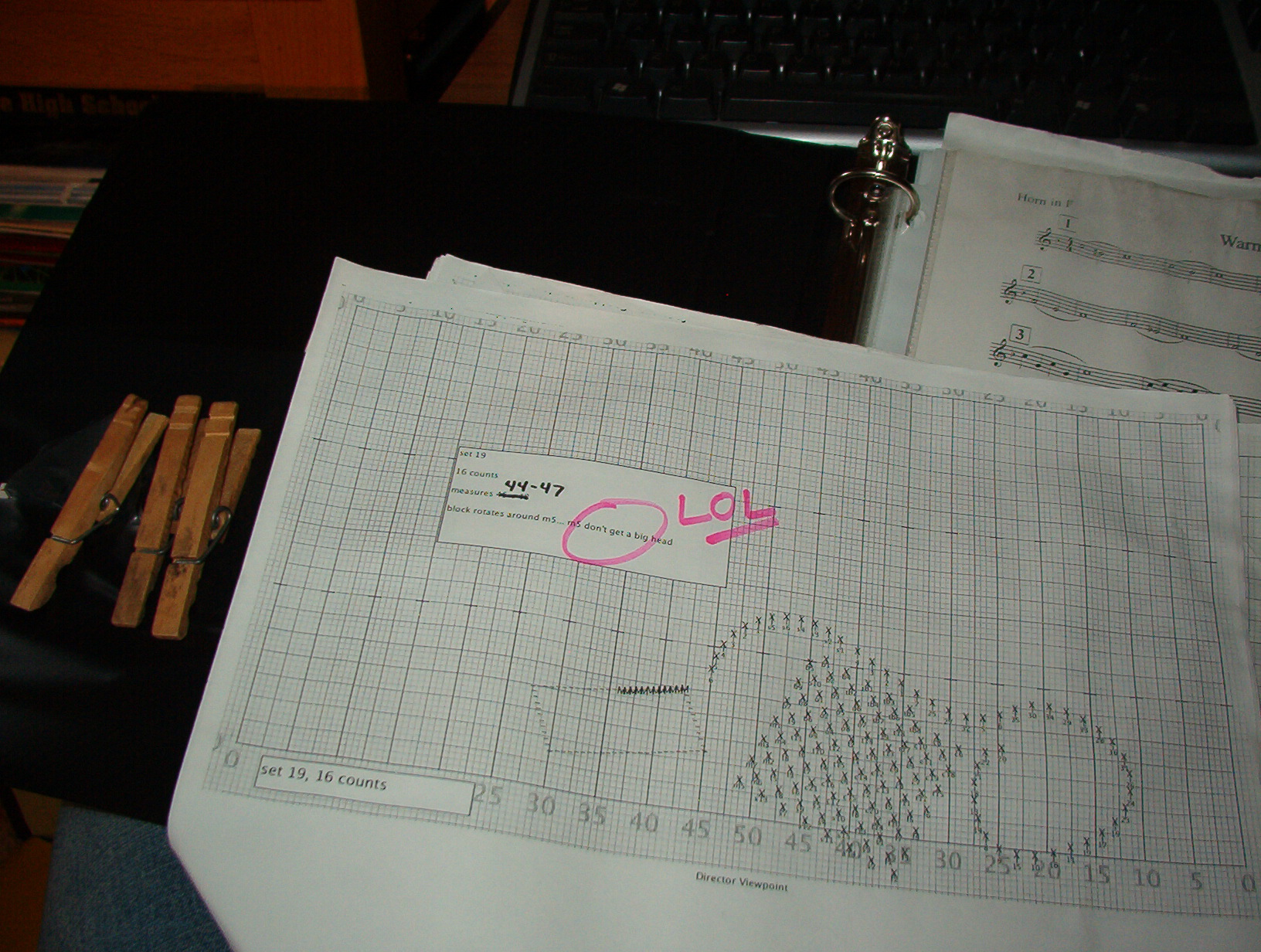 (If you zoom in, I am in fact m5.)
Dragging around those hefty sets of drill while rehearsing would be pure insanity, though, so we make what's called a "dot book" - looks like this: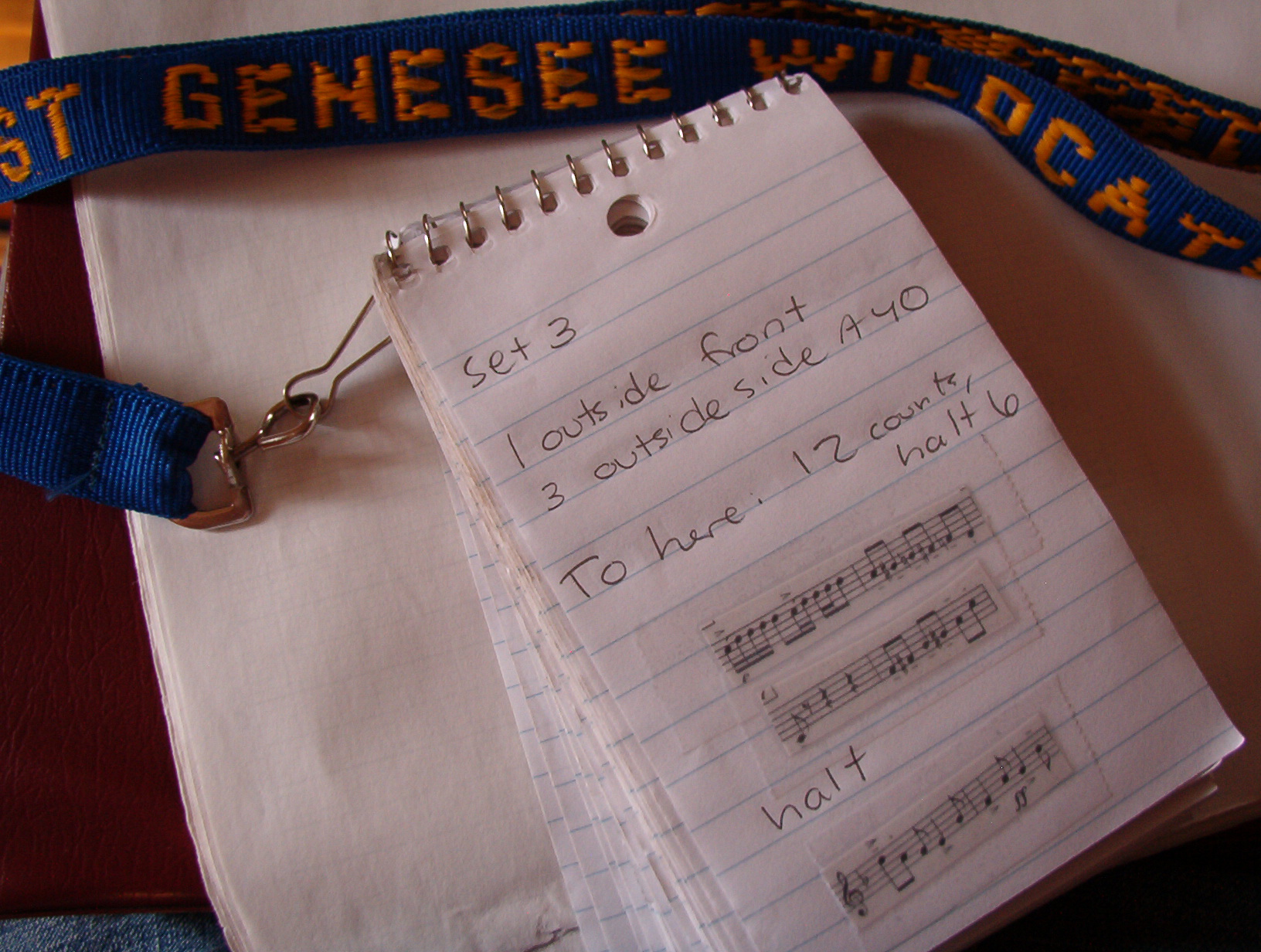 The numbers about inside/outside are steps. We don't really have any rules about how to make dot books; the main thing is just to make sure that all the information that will be useful to you is on the page.
Other bits: most of the time one marches shoulders flat to the front of the field, and in straight-line paths from dot to dot. There are exceptions. Also, drill instructors give terse instructions for putting horns up, down, etc. using 5-beat commands. "Dressing a line" is to make sure that you're in line with the person next to you in a block; "covering down" is making sure you're behind the person in front of you in a block.
I don't have any good overheads for this year yet, but here's last year: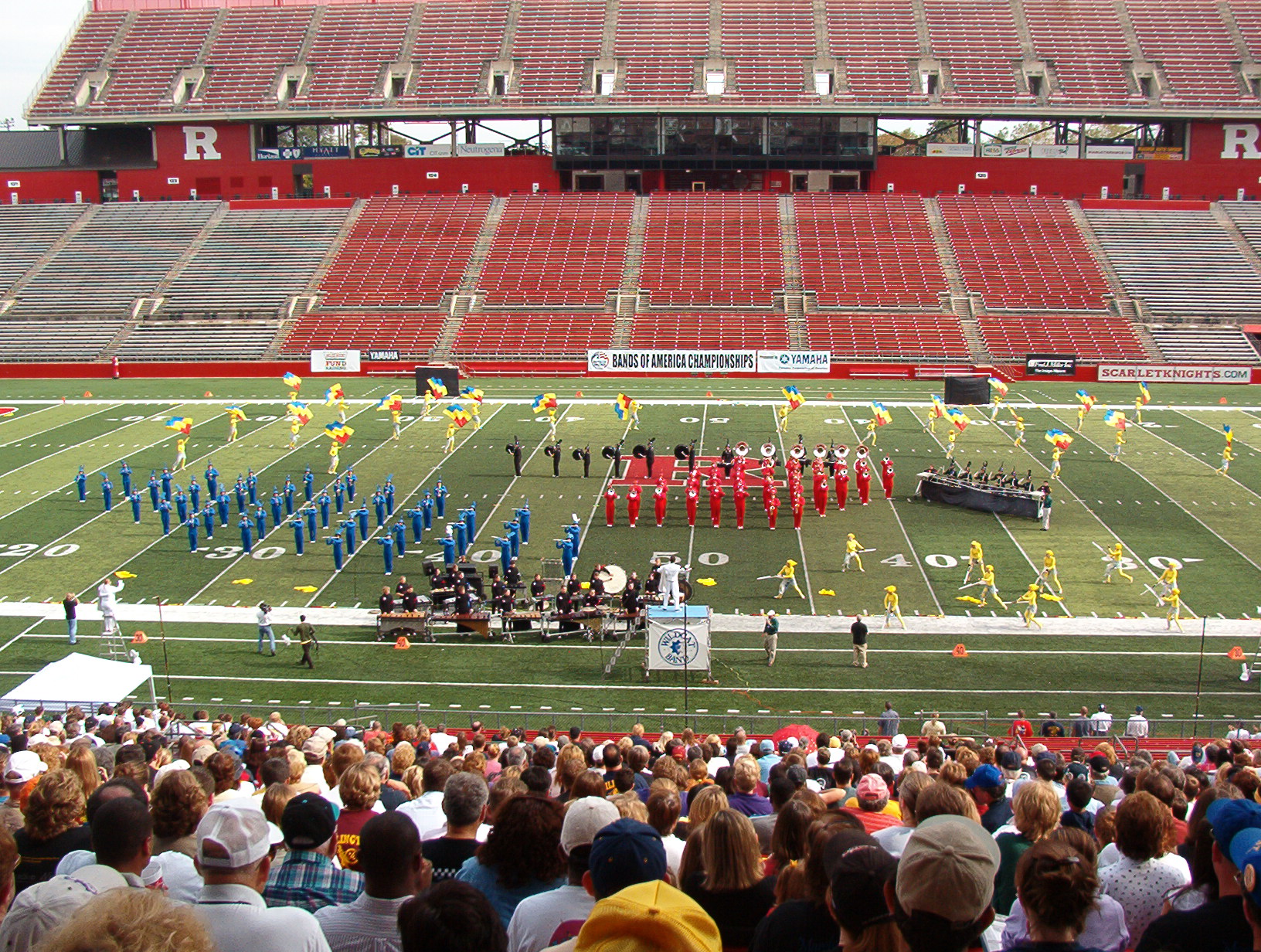 I know that I have left things out, but it's not supposed to be comprehensive - and it's long enough already. Enjoy!
It's that time again. One week. Last time. I'm almost sad.
It's called 'band camp', but, funnily enough, at my school it's not really 'camp'. They don't ship us off with sleeping bags and luggage. We merely have 30 hours of rehearsals in the week, as opposed to... 9. Three hours in the morning, three hours in the evening, every day. Don't forget water.
Marching band rehearsals start tonight; summer jazz started this afternoon. I still need to put my binder together for band with all the sheet protectors, clothespins, and other band necessities. This year will rock. (Literally - our show is from the music of "Yes", though don't let that be the sole fact to judge the quality off of.

)
I need to practice. Haven't played in three weeks (BAD IDEA). And I still don't know whether my mellophone is back from repairs yet. Oh well, no time like ten minutes before rehearsal!
It's also blazingly hot out right now (32°C this minute). Funny how that happens.
Noooo!
Hilary Duff is coming to "sing" within twenty minutes of my house this September. The ticket prices on the concerts are pretty hefty as well, jeez.
Let me go die now.
So I just got back from being a "guest artist" at my little sister's band concert, i.e. I got to tout (and toot) my horn and get stared at by 50 little fourth and fifth grade musicians who think I'm da bomb. (And pretty, apparently, in my dress black [pants].) I really just played one song with her [large] band, a French horn-section featuring march entitled Our Claim to Fame that the band director actually wrote when I was in the band, a good six years ago. Pro: you don't need to play in tune! Play loud, have fun. Be "big sister."
I also made new friends. It's funny how I haven't been to a younger concert in quite some time now, one where there's a constant murmer in the audience from giggling siblings playing with dolls on the floor and hormonal little boys who never stop fidgeting, where the lights are off but it's still mostly light because it's in a cafeteria with large window and rows of cafeteria chairs in front of the stage. While hanging out backstage waiting to go on, I had a couple nice little chats with my old band director's student teacher. She was really quite nice, aside from having a last name which happened to be the first name of a guy in my grade who I would really like to throttle sometime. It felt like I could connect with her a lot more than the kids, or even a student teacher of about the same age who might have taught at the high school.
Later, when I was standing in the back, I just started talking with a middle-aged couple who were standing there too. They were nice, too -- it's been a while since I've just had a little chat with someone who I've never met before and probably will never see again. And no, I am not in middle school, though that seemed to have been the first guess of several people. Those are three years of my life where a lot of things could gladly be forgotten.
Both the band and the chorus played/sang several songs that I had played when I was back in elementary school, from "Fifty Nifty United States" (Alabama, Alaska Arizona Arkansas...) to "West Genny Jump." To be young and innocent and rap wearing patriotic flag headbands again (alas). Along the hallway were displays of art projects that I can distinctly remember doing... one of which is hanging up at my grandparents' house now... birthday signs for the middle school band director who was also my middle school band director, a sign on the chorus door reading "Official Home of the Countdown to Harry Potter and the Half-Blood Prince." Alright, so there were some good times in middle school. Some. More in elementary, though the bad were brought back with the reminiscent callings of "I'm better than YOU are, you jerk!"
High school is better. Not perfect. But better.