I'm taking this class called Music Since 1960 this spring with this great guy Evan Ziporyn (of Bang on a Can pseudo-fame). It's really one of those classes that depends entirely on the teacher, and Evan makes it a great class, despite being out of town relatively frequently to play with Bang on a Can. He leads discussions without dominating them, has street cred, and knows lots of people who he can bring in as guest lecturers for those times when he is not around.
One thing we had to do for the class was to come up with a 15-minute presentation from a post-1960 artist of choice. I chose to present about the Penguin Cafe Orchestra (1974-1997).
The Penguin Cafe Orchestra was, perhaps surprisingly, not actually an orchestra. It was basically a chamber group whose members played numerous instruments. The membership was fluid, with only the British co-founders Simon Jeffes and Helen Liebmann staying with the group continuously, and the rest of the musicians coming and going.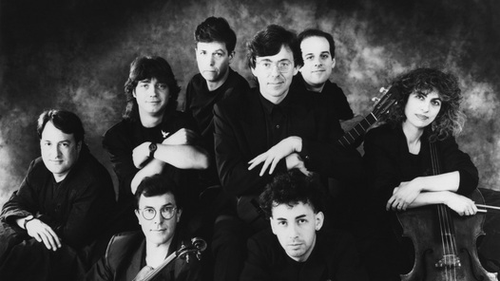 The group was created as a response to an experience Jeffes had while in the south of France, while suffering from food poisoning. He writes,
I was laying in bed delirious, sort of hallucinating for about 24 hours. I had this one vision in my mind of a place that was like the ark of buildings, like a modern hotel, with all these rooms made of concrete. There was an electronic eye which scanned everything. In room one you had a couple that were making love, but lovelessly. It was cold sex with books and gadgets and what have you. In another room there was somebody just looking at himself in the mirror, just obsessed with himself. In another room there was a musician with a bank of synthesisers, wearing headphones, and there was no sound.

This was a very terrible, bleak place. Everybody was taken up with self-interested activity which kept them looped in on themselves. It wasn't like they were prisoners, they were all active, but only within themselves. And that kept them from being a problem or a threat to the cold order represented by the eye.

A couple of days later I was on the beach sunbathing and suddenly a poem popped into my head. It started out 'I am the proprietor of the Penguin Cafe, I will tell you things at random' and it went on about how the quality of randomness, spontaneity, surprise, unexpectedness and irrationality in our lives is a very precious thing. And if you suppress that to have a nice orderly life, you kill off what's most important. Whereas in the Penguin Cafe your unconscious can just be. It's acceptable there, and that's how everybody is. There is an acceptance there that has to do with living the present with no fear in ourselves.
(from http://www.penguincafe.com/simon.htm)
What a beginning for music that came to be described as "exuberant folk", and which incorporated musical styles from Africa and folk music with the more complex, "intellectual" classical traditions of upper-class Europe! Jeffes started out studying classical guitar, but felt that his studies were dead and lifeless and dropped out, dabbling in rock and avant-garde before deciding that he didn't actually want to throw out the whole of the European classical tradition, what he described in an interview as "the music of our people".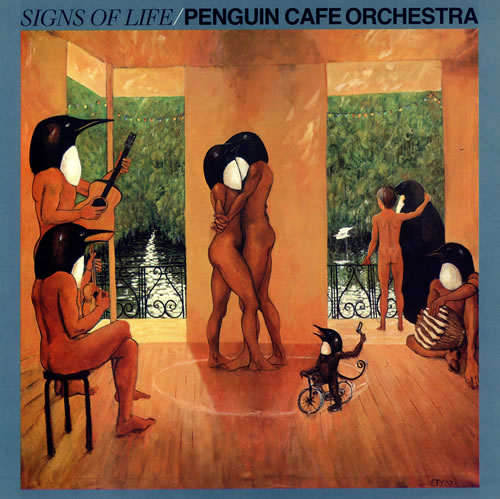 What came of his choice of direction was "cafe music", as he describes:
Ideally I suppose it is the sort of music you want to hear, music that will lift your spirit. It is the sort of music played by imagined wild, free mountain people creating sounds of a subtle dream- like quality. It is cafe music, but cafe in the sense of a place where people's spirits communicate and mingle, a place where music is played but often touches the heart of the listener.
To me, it evokes a sort of low-key romantic European cafe, with people chatting and music that is not too loud, and many many books. Life! Spontaneity! In many ways I am not a romantic, but day-dreaming about cafes and beautiful, human music is not one of them. Some of the PCO's songs are so good in that way that I nearly can't listen to them, it's too painful. Perpetuum Mobile and Rosasolis come to mind.
One good side effect of researching the group for the class was finding video of the group playing and of Simon Jeffes speaking, albeit most of it from a bizarre 1989 BBC studio performance, which includes such gems as Simon Jeffes playing two penny whistles at the same time (Salty Bean Fumble), and just being able to see what fun they're all having while they perform.
I also discovered that Concert Program is a wonderful "snapshot" studio album, not a release of all new music but just a picture of the group at a particular point in time. It contains some subtle variations on pieces that I know well from their original releases (Music from the Penguin Cafe, Penguin Cafe Orchestra, Broadcasting from Home, and Signs of Life)..Union Cafe is an album that I didn't know about before researching for the presentation.
Tragically, Jeffes died in 1997 of an inoperable brain tumour. His son Arthur continues his legacy today with his group Music from the Penguin Cafe Orchestra, which plays PCO pieces as well as new compositions.
If only all assignments could be so fun and rewarding.