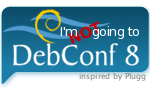 The usual suspects apply: too expensive for me especially without a guarantee of sponsorship, etc. Maybe next year!
It turns out that due to a weird collision of circumstances I am going to GUADEC, however. I will probably be doing more Istanbul-exploring than talk-attending, but I will certainly be around for evening socialization.
I am also currently in Cambridge, UK, and will be here until mid-August.
This is the summer of last-minute plans, apparently.