It's true: you never know when you may end up bringing home a teapot. Like, for instance, when attending an international graphics conference.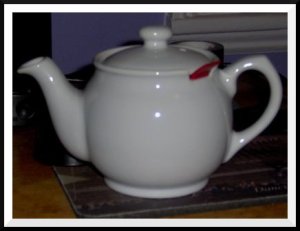 The reason for this apparently had to do with the large exhibit of teapot-based digital art in the International Center section of the conference, inspired by this guy whose name I don't remember who was drinking tea with his wife one afternoon and looking for a cool object with lots of curves to render. And she told him to use the teapot. There's nothing quite like Boston Skyline rendered in teapots. Served with a slideshow presentation of the history of the most popular beverage in the world (including, of course, many references to the Boston tea party), SCONES, tea, SCONES, and free teapots from Upton Tea Imports--at least for four minutes or so until the buzzing hordes got through with snatching them up.
I'm really quite pleased, since I, being a poor college student and only recently having started collecting my own kitchenwares, didn't own a teapot before and am now able to conduct devious experiments with loose tea instead of relying on teabags all the time. The pot's not big but it'll do fine for one person!